Basics Of A Slip And Fall Claim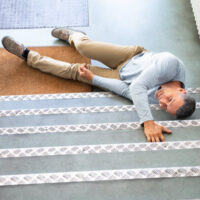 It is a terrible reality that people are injured in slip and fall accidents every day. And trip, slip, and fall injuries can be sustained anywhere, from grocery stores to public sidewalks. Sometimes, if another is at fault, a slip and fall claim can lead to monetary compensation. Whether you are sure you have a claim or have questions about if damage recovery is possible, talk to a Miami personal injury lawyer.
What Is a Slip and Fall Case?
A slip and fall case is a type of personal injury legal action that is based on the concept of premises liability. Premises liability states that a property owner has a responsibility to maintain a reasonably safe environment for visitors. If they fail to do so and a person is injured as a result, they could be held liable for damages.
What Are Common Causes of Slip and Fall Accidents?
Often slip and fall accidents occur due to uneven surfaces, poorly maintained facilities, inadequate lighting, or hazardous objects. But trips and falls can happen in a wide range of places, including the following:
Swimming pools
Stairs
Curb edges
Bathrooms
Playgrounds
Rooftops
In part because they can take place nearly anywhere, slip and fall accident injuries are, unfortunately, very common. To determine who is responsible for a slip and fall accident, a variety of factors must be taken into consideration. Depending on the circumstances of the accident, the victim, the property owner, and other parties could be held accountable.
Who Is Responsible for a Slip and Fall Accident?
In general, any person or entity that controls or owns the premises could possibly be at fault for a slip and fall accident injury. This includes homeowners, landlords, business owners, and property managers. That said, there could be other liable parties as well.
Owners and managers. These individuals and entities could be liable because it is their responsibility to keep walkways, staircases, and other common areas clear of hazards that could lead to a slip and fall accident.
Injured party. People using a public space are also responsible for their own safety, so if they ignore signage alerting the public to a risk or enter an area that is clearly dangerous, they carry a level of responsibility for the harm.
Other parties. Every situation needs to be fully reviewed. A workplace fall could result in the employer being held accountable or there could be a product liability case if there was a product defect that resulted in a slip, trip, or fall.
After a slip and fall injury, have a Miami personal injury lawyer evaluate your situation and determine how to move forward. A seasoned attorney knows how to gather evidence, file claims, and negotiate with insurance adjusters and lawyers to achieve optimal results.
Are you experiencing any pain or discomfort after a Florida slip or fall? See a medical professional without delay. Then, speak with an experienced attorney. To learn more, reach out to the legal team at Spencer Morgan Law. No-cost, confidential assessments are available, call 305-423-3800.