Accidents Due To Florida Residents Driving With Pets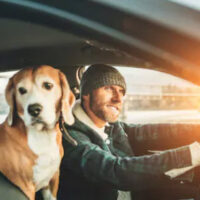 It is understood by most that accidents are possible when a person is a distracted driver. What can be harder for people to acknowledge is the wide scope of driving distractions. Cell phones are a common distraction, but so are pets. If a Miami dog owner is driving with an unrestrained animal, they may not be focused on driving.
When pet owners participate in distracted driving, accidents resulting injuries, medical bills, and lost income may occur. If you are recovering after a Florida vehicular crash involving an animal, talk to a Miami car accident lawyer.
Behaviors that Can Lead to Distracted Driving with Dogs
Pet lovers will tell you their dogs, cats, and other animal friends are members of the family. Great companions throughout your day, you may find it charming when you see a car pass and the driver has a dog on their lap. But unfortunately, unrestrained animals can prompt collisions because pet owners can be tempted to interact with their pets and animals can act unexpectedly when circumstances change.
How dogs and other animals can lead to distracted driving:
Dog and pet owners who allow their animal to sit on their lap as they drive.
Drivers who use their hands to find an animal toy or give a dog food or other treats.
Choosing to look at a charming animal or take photos of a cute dog pose.
Taking hands off of the wheel to pet a dog in the passenger or back seat.
In some instances, a restraint or barrier can help to reduce the risk of an accident.
While there is no law against having a dog on your lap or unrestrained in the state of Florida, it is important to do what you can to ensure safe travel for yourself, your car passengers, and your pets. Pet lovers need to remember that animals can be harmed when accidents occur as well. Sometimes restraints can even save the life of the dog in the event of a collision.
Furry friends can enhance a person's life and boost your mood. Enjoying the joy animals bring can be an important part of life. Do what you can to keep everyone safe. And, if a Florida accident does occur when pets are in the car or truck, talk to a Miami car accident lawyer about financial recovery. If another was negligent, damage recovery could be a path to moving forward after an injurious event. Vet bills for animals who are injured could be part of a damage recovery settlement.
Did you have a dog loose in your car at the time of a car collision? Or, were you injured in an accident because the other party was paying attention to their pet instead of the road? Talk to the Miami personal injury attorneys at Spencer Morgan Law. Accident cases can be complex and a knowledgeable attorney is needed to navigate the complicated negotiations with insurance companies and legal professionals. Contact us today at 305-423-3800 to schedule your free consultation.