A Breakdown Of Medical Malpractice Damages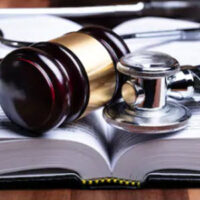 When medical professionals breach their duty of care and fail to meet an acknowledged standard, a malpractice claim may be required in order for a wronged individual to access loss recovery. In order for a settlement to be full and fair, it is important to understand the types of damages available to victims.
A Miami personal injury attorney will guide you through the pursuit of justice and fight for a maximum compensation amount. At your very first meeting, an attorney can share paths forward with you and help you explore various types of damages that may be recoverable.
Losses Included In a Medical Malpractice Dispute
Damages that have clear expenses attached to them are economic damages, including medical costs, wage losses, and property damages. Medical expenses could include hospital bills, surgical costs, prescription expenses, rehabilitation, and any other necessary treatments, and if the victim's injuries prevent them from returning to work for a period of time or permanently, they may be entitled to compensation for lost wages, too. Income losses would tally both current and future wage loss.
Of course, not all medical malpractice losses are quantified through billing statements. Claims may include non-economic damages, such as compensation for emotional distress, pain, and suffering. It is possible a financial formula will be used to calculate a recovery amount for non-economic damages. This is important because the emotional toll of medical malpractice can be profound. Victims have experienced anxiety, depression, and post-traumatic stress disorder (PTSD) as a result of their experience.
And while punitive damages are less common than compensation for economic and non-economic losses, they can come into play when there is cause to punish the healthcare provider for their gross negligence or willful misconduct. These damages are typically awarded when a Florida court wants to send a message to the public that a defendant's actions were especially egregious, often in an effort to be sure the actions do not occur again at a future date.
Navigating Complexities and Calculating Damages
To have a successful medical malpractice claim, you and your attorney will need to establish a clear link between the healthcare provider's actions and the harm you sustained. These cases can be incredibly complicated, so it is in your best interests to seek out a reputable Miami personal injury attorney who has a proven track record in medical malpractice cases.
One important way a legal expert can help you is by putting a true worth on your claim. When you work closely with an attorney, they will take time to properly value all of your losses, economic and non-economic, so that you do not accept an amount that is lower than what you deserve. Next, your attorney will negotiate toward the maximum recovery amount.
Has your health been compromised because of a healthcare facility's negligence? Medical malpractice cases have a lot of details to assess, but the legal team Spencer Morgan Law will compassionately listen to your need for recovery and guide you through the types of damages that could be available to you and your family. Call 305-423-3800 to schedule your initial consultation today.