5 Ways Potholes Can Cause A Car Accident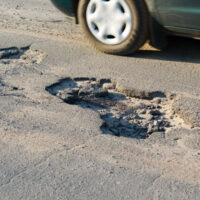 When there is broken pavement and a depressed surface in a Florida road, it is often referred to as a pothole. Potholes can happen due to the stress of weather conditions and heavy use. For instance, breaks and recessions are possible when heavy rains weaken underlying soil and traffic stresses the pavement. While they are recognized as an inconvenience, potholes can also be a serious hazard to drivers.
If a pothole contributed to your Florida vehicular accident, talk to a Miami personal injury lawyer about next steps. Accident injury expenses can be high, but insurance claim settlements can provide financial relief.
Why Potholes Are Dangerous
Potholes can create collision risks in a variety of ways, including the following:
Loss of control. When a car hits a pothole, tire blowouts can occur, leading to steering issues and damage to suspension symptoms. Drivers may lose control of their car, striking other vehicles, buildings, or objects.
Sudden stops. Vehicles that encounter a large pothole may have to brake suddenly to avoid hitting it. This sudden stop can result in drivers colliding with others, especially if they are not paying attention or are following too closely.
Uneven driving surfaces. Drivers who are navigating uneven surfaces often swerve aggressively, which can lead to collisions with other vehicles, pedestrians, or objects on the side of the road.
Hidden dangers. If a pothole is hidden, say if it is filled with water or is covered by debris, a driver may not be able to see it until it is too late. This can cause them to hit the pothole or make a hard, unexpected turn, potentially causing an accident.
Secondary collisions. Often, when a driver loses control, it impacts the decisions of those around them as well. This can cause a chain reaction, leading to additional accidents.
Because of these pothole accident risks, best practices include drivers paying attention to surroundings, so they can spot potholes and avoid them, as well as staying up to date with car maintenance, so your vehicle can withstand the stress and strain of encountering a pothole. Some maintenance that can help include keeping tires inflated properly, replacing worn-out shocks and struts, and aligning the wheels.
Report Potholes to Keep Yourself and Others Safe
If you spot a pothole when driving in the Miami-Dade area, report it to your local government or the Florida Department of Transportation. Once authorities are aware of the risk, it can be repaired, hopefully before any accidents or collision injuries occur.
Sometimes pothole accidents can be avoided through paying attention to the road, driving at a safe speed, maintaining your vehicle, avoiding tailgating, and reporting pothole dangers when you notice them. That said, unforeseen accidents do happen. If you have sustained an injury in a Miami pothole accident, contact an experienced Miami personal injury lawyer to discuss your legal path to financial recovery.
Who will pay for your losses following a Miami pothole accident? Discuss the value of your claim with the injury attorneys at Spencer Morgan Law. Call 305-423-3800 for a no-cost consultation.