4 Types Of Expert Witness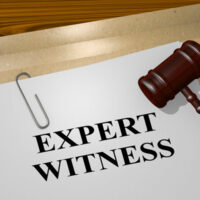 Depositions from expert witnesses can boost the strength of a case. This is true in a range of situations, including product liability, medical malpractice, and personal injury. But the type of expert witness needed will depend on the circumstances of the event, accident, or injury.
In Florida, there are rules of civil procedure in place. Essentially, this means an expert witness must meet certain criteria. An expert witness can't be just anybody, they have to be a professional with credentials that prove they have a level of knowledge that will contribute to the case. If you have questions about who an expert witness could be and how they could help you secure a maximum settlement, talk to a Miami personal injury lawyer.
Expert Witness Examples
There are a wide range of professionals that could be useful in a civil case, such as a personal injury lawsuit. That said, some are more common than others.
Firefighters, paramedics, and police. First responders are often an important part of a personal injury case as they can share information about an accident and reconstruct the causes behind the event.
Forensic accountants and economists. When there are losses beyond medical bills, such as lost wages, financial professionals are a good match for determining how much income was lost and how future wages and loss of professional advancement can be calculated into one sum.
Medical professionals. The extent of accident injuries can be presented by nurses, doctors, and others on a healthcare team. Knowledge they can share include how they believe an injury was sustained and if there is any permanent damage. Additionally, information on how pre-existing conditions were exacerbated can be shared.
Rehabilitation and vocational experts. When a person is not able to return to a profession they were working in, vocational experts could provide expertise on what level of income the individual could earn in the future or if they will no longer be working as a result of the accident.
Of course, every injury has its own needs, so it is possible pain management experts, orthopedic professionals, or a range of other experts could be an asset to your claim or case as well. Florida law requires the individual to have the necessary education, training, knowledge, skill, or experience to testify as an expert.
Experts Help Others Understand Facts
A Miami personal injury lawyer can connect with expert witnesses who will help insurance companies, judges, and juries understand complicated issues. As well-regarded professionals, they can share their viewpoint on how an injury occurred, what the healing process will look like, and what level of damage recovery is required.
Is it time for you to discuss expert witnesses with an attorney? The personal injury lawyers at Spencer Morgan Law can help. Our skilled legal team is in contact with a wide range of well-respected professionals who may be able to provide a deposition for your case. To learn more about how to build the strength of your personal injury claim or case, contact us for a no-cost, confidential assessment. Get started today, call 305-423-3800.