3 Ways To Negotiate A Higher Settlement Amount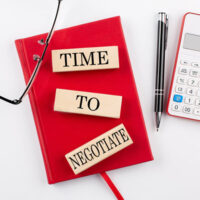 Being disappointed by an offer from an insurance company is not unheard of, but if you were injured in a Florida accident there may be a way to negotiate with an insurance company so that a higher amount can be accessed.
Striving for a fair settlement that will cover all your medical bills, lost wages, and other damages can be challenging, but a seasoned Miami personal injury lawyer can inform you of what is needed each step of the way, including guiding you through these top three ways to negotiate a full and fair settlement.
#1 Gather Strong Evidence
To obtain a higher monetary figure, you need to have strong evidence to support your claim. This includes medical records, police reports, witness statements, and any other documentation that shows the extent of your injuries and losses. A personal injury lawyer can help you gather and organize this evidence to present a compelling case to the insurance company.
Additionally, it's important to keep a record of any expenses related to your injury, such as medical bills from hospitals and receipts from prescription pickups. This will help your lawyer determine the full value of your claim.
#2 Present a Strong Case
Once you have gathered all the necessary evidence, it's time to present your case to the insurance company. Lawyers prepare demand letters, official communications that outline the details of your claim, including the extent of your injuries, the damages you have suffered, and the amount of compensation you are seeking.
Your lawyer will also include any legal precedents or relevant case law that supports your right to recovery, which can be persuasive in negotiations. By presenting a strong case, you can show the insurance company that you are serious about your claim and are not willing to accept a low-ball offer, that you are committed to fighting for a full recovery.
#3 Be Willing to Negotiate
Negotiating a settlement with the insurance company can be a lengthy process, but being patient and persistent can pay off. Your legal counsel will inform you of all offers put forward, including ones that are far too low and others that may be worth considering.
Being open to negotiating in good faith is important because you can often reach a higher settlement amount through compromise than you would by taking your case to court. The reality is that insurance companies want to avoid the expense and uncertainty of a trial. Plus, taking a case to court is time consuming for everyone involved, so reaching a compromise could be in everyone's best interest.
Has an insurance adjuster informed you of a financial amount but you believe that figure is far too low? Do not accept an injury settlement that does not cover your needs. Instead, share your concerns with a Miami personal injury lawyer who has experience in claims similar to your own. The legal team at Spencer Morgan Law will evaluate your claim and inform you of its true worth. Then, they will fight for that full and fair recovery amount. Call 305-423-3800 for a confidential assessment.