When to Take an Ambulance After a Car Accident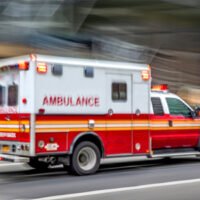 If you feel ok after a car accident, should you take an ambulance? Of course it is clear an ambulance ride is necessary if there was a severe accident with devastating injuries, but if you think you might be ok, you may see riding in an ambulance as not needed. You may be in a hurry to get back to your life as it was, before the accident, heading to your original destination.
But it is often best to take an ambulance because you might be injured and not realize it immediately. Also, if an insurance claim or lawsuit follows a medical assessment quickly after the accident can help you and your attorney. From there, a Miami car accident lawyer can help you secure compensation.
Assessment from Medical Professionals
When trauma happens, human beings produce adrenaline. It has a purpose, it gives us a boost of energy we sometimes need for survival. But it can also lead to an individual not understanding how injured they actually are after a car accident.
In some personal injury cases, the injury is not felt immediately. Or, it is first felt as a small inconvenience and exacerbates as time goes by. When you go to the hospital in an ambulance, professionals can assess your injuries. Doctors, nurses, and paramedics can monitor your health.
Driving Yourself Can Be Dangerous
Attempting to get yourself to the hospital after a car accident can be dangerous to yourself and others on the road. If you have a condition you are unaware of, it can get worse. Then, you may not be able to get to the hospital in time or you may lose control of your vehicle.
Plus, you may be heading to a hospital that does not provide the care you need. Medical professionals know which hospitals provide specialized care. They can move the ambulance to where you will receive the attention your injuries require.
The first priority is your health and seeking professional attention is the best path to healing. And if a lawsuit does arise later, the connection between the injuries suffered and the accident will be clear and documented.
Refusing an ambulance can cause issues with your claim later. An insurance company, for instance, might say that your refusal is proof that your injuries were not as bad as the claim states. Being evaluated right away, without delay, strengthens your claim and can help your Miami car accident lawyer get the best results for you.
Things that should be evaluated:
Bleeding
Back pain
Neck pain
Chest pain
Feelings of lightheadedness
In short, it is better to be safe than sorry. Be medically evaluated as soon as possible, taking an ambulance when symptoms are present.
Car accidents are common. If you have been in an accident and taken an ambulance, talk to a knowledgeable personal injury lawyer to discuss your options. There may be compensation available for doctor bills, vehicle repairs, and lost wages. Our Miami car accident attorneys at Spencer Morgan Law will fight for fair compensation. Contact us today at 305-423-3800 to schedule your free consultation.
https://www.smorganlaw.com/what-happens-when-personal-injury-claim-becomes-a-lawsuit/