Practice Personal Injury Safety for Halloween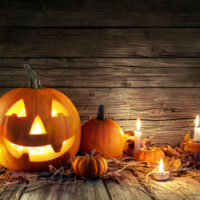 Millions of people will celebrate Halloween this year. Children and adults will dress up in costumes of their favorite character or person, give out candy and treats and go to various events throughout the city. Spencer Morgan Law wants everyone to be safe during Halloween and any other fall festivities. Today, we are offering our favorite tips to practice personal injury safety.
Pedestrian Accidents and Slip and Falls
Drivers should be especially cautious on Halloween. Look out for the trick or treaters as they walk through neighborhoods and retail stores to get candy.
If you're a pedestrian, do your part by wearing reflective or glow in the dark gear so you can be seen in the dark. Be sure to watch your step and look for potholes. Make sure your shoes are tied or fastened and that the flowy parts of your costumes are secured.
Inspect the Halloween Candy You Receive
Parents, please take the extra time to inspect the candy your child receives from trick or treating. You want to make sure that each treat or piece of candy is safe to eat and that someone did not play a trick.
An article in the Sun Sentinel, describes one of the oldest Halloween tricks in the books – a sharp object such as a razor blade hidden inside of a piece of candy.
Make Your Property Safe
If you're a homeowner, make sure your property is safe for Halloween. Some people enjoy creating jack-o-lanterns out of pumpkins and putting candles in them for display.
You have a responsibility to keep the invitees to your home safe. Be sure to keep candles out of reach of costumes, as the costumes can catch on fire.
Trick or treaters should:
Beware of flames near the costume
Buy flame resistant costumes
If the costume catches fire, learn what was taught in school: stop, drop, and roll
Be Careful in Haunted Houses
Yes, haunted houses are scary and spooky. But you should be mindful of your surroundings. Some haunted houses have poor lighting and have low visibility due to smoke.
Haunted houses are a prime location for a personal injury accident. The operators of the haunted house also have a duty to keep everyone safe. In the event of negligence, the property owner can be held responsible. As a result, patrons who receive premises liability injuries in a haunted house have a right to file a personal injury claim.
If You Receive an Injury as a Result of Trick or Treating in Miami, Call Spencer Morgan Law.
If you slip and fall or become involved in a pedestrian accident during Halloween, contact Spencer Morgan Law at 305-423-3800 for a free consultation. Our Miami personal injury attorneys have extensive experience representing personal injury victims throughout the State of Florida. We will help you enforce your rights and work alongside you to make sure you receive the maximum amount of compensation you deserve for your injuries.
Resource:
sun-sentinel.com/local/palm-beach/fl-ne-sharp-object-halloween-candy-20181102-story.html
https://www.smorganlaw.com/bounce-houses-cause-kids-personal-injuries-in-miami/