Florida Trucks and Automatic Braking Systems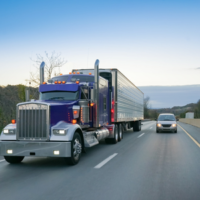 Catastrophic harm is possible when the brakes of a commercial truck do not function properly. This can happen if a truck doesn't have an automatic brake system or if the system is not adequately maintained. When an automatic braking system works well, the system alerts the driver of a vehicle of impending harm. Soon, new passenger cars will be required to have automatic braking systems in an effort to keep the public safe. Many trucks do not have these systems in place.
Accidents involving trucks can be severe, leading to serious injuries and extensive property damage. Complex claims are likely when a truck's brakes did not work properly and caused a multi-vehicle crash. It is important you have your rights protected and that you secure a compensation amount that is adequate for the amount of suffering you have sustained. Connect with a Miami truck accident lawyer to learn about how an attorney can help.
Truck Brake Failures and Rear-End Protections
Commercial trucks and big rig semis are extremely large vehicles. Plus, they are moving heavy cargo on roads and highways. These large, heavy vehicles pose real risks to others on the roads, including pedestrians and motorists. If the brakes fail, the operator of the truck may lose control. It is also possible that a brake failure will shift the cargo of the truck, which could lead to a rollover.
Of course, when passenger car drivers and truck operators are aware of risks before they happen they are able to react to the danger. If there is enough time and the driver is experienced, the warning could mean a crash is avoided. Automatic braking systems are one of the ways to warn drivers of potential risks.
Rear-end collisions can be devastating and are common with commercial trucks. A braking system is one preventative tool that could reduce rear-end collisions. But automatic braking systems are not managed for the trucking industry, so their use is inconsistent. Some companies do have the systems installed when new trucks are ordered but do not want to spend the money to retrofit all of their older trucks, for example.
After a truck accident, a lawyer can assess your situation. If your injury could have been avoided by an automatic braking system and it can be proven the trucking company had an opportunity to have one installed and opted not to, negligence could be established. Some experts believe rear-end collisions could be avoided completely if there was a mandate in place for all vehicles to have automatic braking systems.
Talk to a Miami Personal Injury Lawyer
Safe driving is always important, but taking advantage of safety feature technologies can also help to reduce the possibility of a crash and save lives. If you were injured in a Florida crash, a Miami car accident lawyer can help.
Did a brake failure lead to your accident injuries? Talk to the Miami personal injury attorneys at Spencer Morgan Law. Accident cases can be complex, a knowledgeable attorney is needed to navigate the complicated negotiations with insurance companies and legal professionals. Contact us today at 305-423-3800 to schedule your free consultation.
https://www.smorganlaw.com/boating-trips-and-water-tubing-accidents/