Who Is Liable For Your Injuries If You Were Injured In An Uber Accident?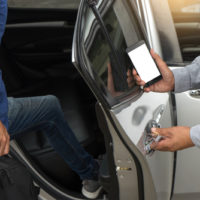 Uber cars are becoming increasingly common modes of transportation, with more and more consumers opting to hail an independent driver over a taxi driver. While this is great for the little guy, it poses some unique complications, one of which—who is liable for injuries and other damages if an Uber driver gets into an accident? Before you call an Uber to take pick you up next time, you may want to consider how—or even if—you will be compensated should something go wrong.
Uber Drivers Are Usually Double Insured
Chances are, your accident claim will be denied. Uber may have started off small and with independent drivers, but it has since grown into a large organization with substantial clout. That said, they have a lot to lose. To protect itself, the company provides their drivers with liability insurance in addition to what they must carry for themselves.
Most personal car insurance policies will not cover the cost of damages if the accident happened when the insured was "on the clock." As a result, you can expect for your claim to be denied by the driver's personal insurance company. However, that does not mean that you are out of luck; you still have the company's policy to fall back on. Uber provides its drivers with liability policies to cover the costs of injuries and damages. Moreover, Uber provides insurance their drivers with uninsured and underinsured motorist coverage to protect drivers and passengers who are injured in a hit and run accident or in an accident involving an uninsured or underinsured motorist. In theory, you are protected if you are in a car accident involving an Uber driver.
However, that's just in theory.
Uber May Refuse to Compensate You
With the coverage they have, you might think it would be easy to get compensated for your injuries, but you would be wrong. Like with all big companies, Uber is likely to refuse to pay without first putting up a fight. And because their drivers do not work set hours, it is fairly easy for Uber to deny responsibility.
Case in point: in October 2014, a woman tried to take UberX home from a party. Instead, the driver decided to take her on a 20-mile ride that ended in an abandoned lot. When she tried to let the driver know that he was no on the right route, the driver ignored her. Finally, they arrived in a dark, empty lot, and when the passenger tried to exit the vehicle, the driver locked all the doors, trapping her inside for nearly two hours. When the woman filed a claim against Uber, the company apologized for the "inefficient route" and refunded her part of her fare.
In December of 2013, Uber driver Syed Muzaffer struck and killed a 6-year-old girl in San Francisco. The family filed a claim against the driver and the company, but according to Uber, Muzaffer was technically not logged into the Uber app at the time and so, therefore, the company could not claim liability. The family sued the giant for wrongful death anyways. To add insult to injury, Muzaffer had a reckless driving conviction under his belt when he applied for Uber, something the company's "top of the line background check process" seemed to not deem worthy enough to pick up on.
The bottom line is that Uber and its insurers are businesses, and as such will do anything to protect their capital. Compensating victims of accidents is something they will take drastic steps to prevent—even if it means acting callously about a victim's injuries or even death.
Get the Compensation You Deserve
 If you are hurt in an Uber accident in Miami, chances are that the company will do everything in its power to try and not compensate you. If you want to make sure that you are justly compensated for your injuries and costs associated with those injuries, reach out to our Miami car accident attorneys today. At Spencer Morgan Law, we will conduct a thorough investigation of the accident and gather the evidence necessary to not only prove that the driver was liable, but to prove that the company was as well. To speak with an experienced personal injury lawyer regarding your claim, call Spencer Morgan Law at 304-423-3800 today.
Resources:
valleywag.gawker.com/uber-calls-womans-20-mile-nightmare-abduction-an-ineff-1645819700
time.com/3625556/uber-manslaughter-charge-san-francisco/