Driver U-Turns Can Cause Miami Accidents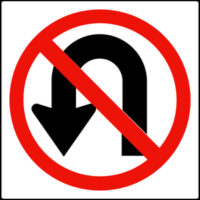 Have you seen a Miami driver make an illegal U-turn? If so, you are not alone. When drivers make reckless moves or drive erratically, accidents can follow. Moving a vehicle in a 180 degree direction, essentially putting a vehicle in the opposite direction after moving the car in the shape of a U, is an example of a driver completing a U-turn.
Sometimes, U-turns can be performed legally. In other circumstances, the turns are unlawful. It can be difficult for other drivers to respond quickly if the move is done illegally and unexpectedly. That is when the likelihood of an accident increases. After a Florida car accident, seek medical treatment and talk to a Miami car accident lawyer.
U-Turns May Create Confusion
When there is signage illustrating where a safe and legal U-turn is possible, other drivers and pedestrians know that cars turning in this fashion is a possibility. But, if the turn is done illegally, others sharing the road may not expect the movement. While it is true that U-turns are legal in Florida, except where signs are present prohibiting them, it is still essential the driver turning does not interfere with traffic and yields to other's right of way on the road.
Problems can also occur when a street is narrow. If a person is U-turning a car and the road is too small to make the move smoothly, the vehicle operator may need to stop the U-turn process and execute a three-point turn instead. Three-point turns on narrow streets block traffic. If the blockage is not noticed as another vehicle comes along, the vehicles may collide. If an unexpected turn is happening when individuals are pulling out of parking spots, collisions are also possible.
Determining Liability After a U-Turn Accident
All car accidents can result in serious injuries and physical damage to vehicles. Loose cargo can injure drivers and passengers when they shift due to the force of a collision or the people in the car can be hurt when slammed against hard surfaces or when airbags inflate.
When there is damage, it is important everyone receives medical attention right away. Then, discuss the event with a Miami car accident lawyer and fault can be determined. Laws will be reviewed and behaviors will be assessed. Every situation is unique and a legal professional can help you navigate all of the documents and insurance company requests involved with a car accident claim.
High expenses for doctor bills, therapy appointments, and medications are common when car accidents occur. A lawyer can help. Contacting an attorney before discussing the event with an insurance company is advised, a lawyer will be advocating for you and not worrying about shielding the company from high expenses.
Were you in an accident because another driver made a reckless U-turn? If so, you need a Miami car accident lawyer working to secure the maximum settlement amount for you. We work on a contingency fee basis. Call Spencer Morgan Law at 305-423-3800 for a free consultation.