Different Types Of Miami Boating Accidents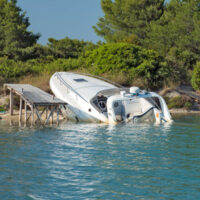 Boating can be a great recreational activity, but there are times when accidents happen. If you or someone you are about was hurt on a pleasure boating excursion, you may be wondering how to secure compensation.
In order to recover damages, it has to be proven that another person or party was negligent, meaning they failed to act with a reasonable level of care. To determine if you have a strong claim or case, connect with a Miami boat accident lawyer. If another was reckless, a full and fair compensation settlement could be possible.
Different Scenario that Could Lead to a Claim
In order to understand how negligence could be part of a personal injury claim. This could be true if you or someone you love was injured in a boat collision, when your boat struck another vessel's wake, you hit a wave, or your boat hit land, rock, or an object that is submerged under the water.
When a collision happens between two or more boats, it is possible one or more boat operators will carry a level of fault. This is often true when the boats were motorboats. When a sailboat and a motorboat are involved in an accident, it is likely the at-fault boat operator will be the one driving the motorboat. This is because motorboats are required to stay out of the way of sailboats when the two types of boats share a waterway.
If your injury happened when your boat hit the large wake of another boat, liability may not be immediately clear. A few different things will have to be assessed, including the following:
The speed that boats involved were traveling
Any visibility issues
Size of the wake
How much boat traffic was present
If there was a warning
What type of boats were in use
For instance, traffic could be an issue in determining fault because if a boat was making waves in a congested zone with signage posted stating it was a no wake zone, they were clearly behaving recklessly. This could be more complex if the accident occurred in an area that was isolated.
It is Necessary to Have Safety Items on a Boat
There are guidelines, regulations, and laws in place that require boats to have life jackets, flares, lights, fire extinguishers, and more. While it is the goal of every boat operator to not need these items, they can be essential in the event of an accident. For this reason, if an injury occurs because there were no safety items, the boat owner or operator could be held liable.
Were you injured in a Miami boat accident but are unsure what type of claim applies to you and your circumstance? When an accident involving a boat results in injury or death, you need a Miami boat accident lawyer on your side. A skilled attorney has the experience needed to navigate legal complexities. You deserve justice and we work on a contingency fee basis. Call Spencer Morgan Law at 305-423-3800 for a free consultation.