Connect With Rideshare Companies After A Crash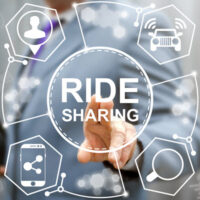 Millions of Miami Dade County residents and visitors use rideshare services. Individuals who use apps such as Lyft or Uber do so because it is a convenient way to get around town, and many find it is more affordable or convenient than using their own car or paying for a rental vehicle when you only need a car a couple times on a trip.
Wherever your reasons for choosing to travel in a rideshare vehicle, know that there are still accident risks, as there are in any vehicle. If you were a passenger in a rideshare that was involved in a collision, talk to a Miami personal injury lawyer about best practices.
Contact All Involved
While rideshare drivers do carry their own personal car insurance coverage, it is important you contact the rideshare company itself and inform them that the accident occurred. You should not assume the company will be contacted by the driver. There are any number of reasons why a driver may not let the company know, even if they are aware that they should. Alerting the company means they will be unable to deny coverage later through citing timeframes in which a crash must be reported.
Informing your insurance company, the driver's insurance company, and contacting the rideshare company is typically advised. An attorney can do this for you and will review all of the policies that are connected to the event to determine how funds to cover your accident expenses can be accessed. There are situations in which all policies will be involved to make an individual whole again, taking proactive steps could guard your financial future.
Documents Your Injury and Healing Process
Initially connecting with insurance companies is important, but you also are required to have the documentation in place to prove your need for compensation. Taking photos of injuries and the accident site immediately after a collision can be helpful. But, of course, there are times when this doesn't happen as crashes are unexpected, upsetting events. Simply begin documenting as soon as you think of it, and see a doctor as soon as possible. Even if you are unsure of the severity of your injury, a medical appointment is advised. A neck pain may seem minor, but could be connected to long-term pain.
There are many details when it comes to accessing financial damages following a Florida rideshare accident. Thankfully, you do not have to go through the process alone. To learn about best practices and have a professional negotiate settlements while you focus on recovery, call a Miami personal injury lawyer.
Are you confused about next steps following a rideshare accident in Miami? Obtaining a full and fair settlement after a rideshare crash can be complicated as multiple insurance companies could be involved. To understand your options moving forward, connect with the legal team at Spencer Morgan Law. Accidents are distressing, but compassionate yet aggressive legal representation is available. An attorney can work to strengthen your claim, which could boost the likelihood of you securing the maximum amount possible. Schedule your confidential, initial consultation today, call 305-423-3800.